Bebe sent me some statistics the other day on hosting trends in the past 5 years, so I started digging into them, because I was wondering, whether all regions like to host the same kind of porgamms.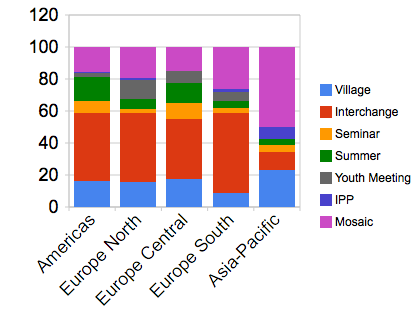 In this graph you can see, which programmes were hosted by the respective regions in 2008. percentage-wise. I should also add the absolute numbers of camps hosted to give a better picture:

Americas: 97
Europe North: 77
Europe Central: 40
Europe South: 100
Asia-Pacific: 26

A few things are interesting:

- Youth Meeting remains pretty much a "European thing".
- Asia-Pacific is very weak in Interchanges. This is sad, because I can see a huge potential for a cultural experience here.
- Mosaics seem to have caught on in the Asia-Pacific region pretty well. However, I think the Mosaic information distorts this graph a bit - simply by size and effort, I'm not sure they can be compared with the other programmes.
- In percent, Europe South hosts the least amount of villages but runs the most interchanges.