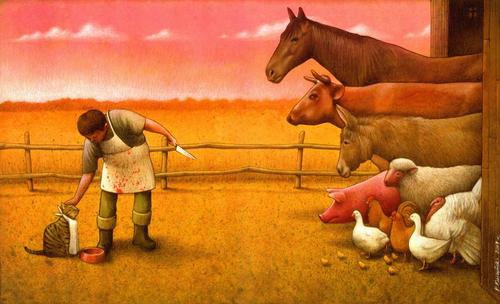 During the first week of my Seminar Camp in 1996 (yes, I'm THAT old!) Jayme* from Canada had become the main chef and since he was a vegetarian, no meat was served for the first 10 days. Only after a significant uproar - people familiar with Seminar Camps know that these things can get dead serious - Rodrigo from Brazil finally cooked a nice Stroganov stew for everybody who wanted some.
When I lived in San Francisco 5 years later I had the idea to live as a vegetarian for a while. I only merely succeeded - couldn't say no to turkey at a Thankgiving invitation - but through delicious Asian food offered in my neighbourhood, I drastically reduced meat from my diet, at least temporaily.
Currently I'm reading "Eating Animals" by Jonathan Safran Foer and even if the book is a bit of a disapointment - almost none of the notions are completely new to me** - It brought back all the good reasons why it's just unethical to consume meat the way the Western world does. Th
Cover of Eating Animals
ink methane and global warming, think antibiotics, think animal welfare, think personal health, think industrial meat production, think feed the world, etc...
I do think the topic is important enough to fill a day in every camp or even host a minicamp or mosaic activity on (check
suggested theme
.). But thinking one step further, and especially in the lines of our new
environmental taskforce
, maybe we should make it a policy that all CISV camps should be free of meat?
*the guy brought his banjo to camp and
plays it professionally
these days, apparently.
** If all the reasons mentioned here, not to eat meat are new to you, and you want to be an ethical person, then yes, the book is a must-read!