An outgoing interview with Moni/CRC, former chair of ILTC.
Several chairs of the the so-called "service-" or "development-committees" stepped back from their positions in the last 2 years, mostly the official explanation was "personal reasons". One of them, is Moni/CRC, who chaired the now extinct ILTC (international leadership training committee) for more or less one and a half years. I was more curious about her experiences with the position so I was happy that she agreed to answer a few questions in the second edition of FTB's
outgoing interview
series.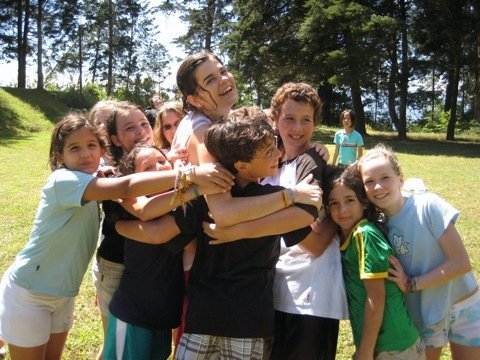 FTB:
Not everybody may be familiar with your professional background and "CISV career" before you became the chair of international leadership training last year. Can you fill us in?
Moni
:
I became acting chair of ILTC in January 2009, during IEC MWM, right after Mark Flores and Jane Van Fleet resigned as leaders of the team. They put my name forward as their suggestion for acting chair. My original commitment was until AIM 2009. Prior to that, I worked in ILTC as TTT Coordinator, overseeing applications, enrollment and overall coordination of the 7 TTTs in 2008-2009. I had also participated in the TTT in Brazil and AIM in Italy, both in 2008. At a national level, I have been a leader for Village and for Interchange, I did a lot of leadership training in my NA as part of the National Leadership Training Committee and participated in a big project with Colombian refugees which was one of my favorite CISV experiences ever. I studied psychology at the Universidad de Costa Rica and I worked in clinical research until July 2009, prior to AIM, since late August I left for my graduate degree at the Harvard Graduate School of Education. Professionally is where I've done most training. Teacher professional development, conflict management for imprisoned women, community level training for senior leaders, youth training to avoid childhood labor and prostitution... I used to love that a lot.


FTB
: When you started as the ILTC chair, did you have specific goals that you wanted to reach during your term in mind?
Moni
: Yes. Aside from the shared goal of building a strong Education Department, I wanted to: 1) Become a useful resource of trainers throughout every level of CISV. The committee should offer resources that allow people to create and deliver stronger trainings, to innovate, be creative and more effective. All this ensuring consistency and quality throughout training in the organization. I did not want to be a committee that would add more work and forms to fill to every trainer, but rather encourage and empower trainers by offering good, high-quality support. 2) Create a communication strategy that would not only link the international level (committee) to the national level but also between trainers themselves. The committee should make sure that there is a community of trainers throughout the organization. Ex-trainers can serve as mentors through a mentorship program, new media can serve to create distance training and exchanges of ideas and information amongst chapters, and the Department should have a network to successfully have two-way communication with the grassroots level. ILTC should focus on learning from the grassroots level, where the "best stuff", I believe, actually happens. Some NAs and Chapters have developed impressive strategies and material that have only stayed within them. Why not learn from them and allow the ideas to spread? The "policy" at the international level should be informed by the practice at the ground level, and not the other way around. This is the only way that the committee will create useful resources and establish an exchange of best practices and ideas amongst all trainers.
FTB
: ...and what were you able to achieve during those 18 months in office?
Moni
:
The first 6 months in office, where I was acting chair, my energy was focused on completing Mark and Jane's (previous Chair and Alternate Chair) plans for the year. We accomplished the successful completion of the second round of TTTs, including TTTs in Canada, Sweden, Colombia, Thailand, Germany and France. 130+ people were trained. We also completed the application process to be a member of the IPT Jane and Mark had started. Two candidates were selected to join the team. While Chair, the biggest accomplishment, which was a major collaborative effort with excellent volunteers from other committees and the IO, was the Writeshop held in January. During this event, we developed four training goals for every level of the organization with general indicators. These are now used as guides for committee-specific training goals and indicators, a major breakthrough for the entire organization. By having strong overarching goals and indicators across all programs, you ensure consistency and quality across training in CISV, as well as offer a good guiding framework for trainers in the design phrase of their trainings. Some other projects were developed during the Writeshop and the months after it, considering that we had limited time and a lot was spent on agreeing on future plans. These included an Activity Template and a Training Template, an Education Terms Glossary and group and individual training evaluation forms. I leave bitter not to have been able to do more, but I trust Cathy Knoop, the new Chair, will be able to continue with the Writeshop productions and spreading the work to every level of the organization.


FTB
: Now we have to get to the more delicate issues: ILTC and EDR were the first committees fused into the new "department" structure. How did that work out for you?


Moni: This was a very big change, since: 1) ILTC and EDR not only fused together but actually split into four (LTC, IPT, EDC, EVR) 2) a Department was created, implying that these committees would be interconnected and would intrinsically work together 3) an IO staff member, the Education and Training Officer, became an integral part of the committee The intentions behind this were quite good, and this structure, in my opinion, can have a lot of potential, but it needs improvement. The things that worked well for me were: - The increased communication between committees (before, ILTC and EDR did not really relate to each other) - The increased collaboration for joint projects, such as the Writeshop, in which the other committees played an important role - The involvement of an education and training expert in the work of the committee The things that needed improvement, in my opinion, were: - The definition of roles (the role of the typical CISV volunteer changes once there is IO involvement in the daily details of committee work) - The definition of responsibilities (committee responsibilities and IO staff responsibilities were still unclear, such as who would do administrative and operational tasks, who would do strategic planning, who would do technical work, etc.) In general, the biggest challenge was the fact that committee work as we know it would be redefined, with the involvement of IO staff as a key part of the Department. At the same time, this could also be the biggest opportunity since a technical expert has a lot to offer to committees made up of passionate volunteers, many times experts in the inner workings of CISV at every level, but with few or no professional experience as an educator or trainer.


FTB
: Thank you for your time!