A new episode in NGOs You Should Know: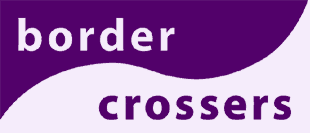 Sachi is a CISVer I met during the IBM in Denmark in 1998, who is from New York. In her home town she created her own NGO, called
Border Crossers
. The concept is quite simple, and related to CISV: Bring kids from different parts of the (segregated) city together, so that they can reduce pejudices.
CISV frustrates me sometimes, because it's so expensive to fly 48 kids from around the globe together for a village - enter Border Crossers: An organization that has obviously become very successfull in a short period of time, by creating a multi-ethnic get-together within a single country, no city!
Then again the founder is a CISVer, so - yeah - CISV might have paid off after all.
Read more about Border Crossers on their website.
Sachi also wrote an aricle in the
Local Work Magazine 2005
(p11) about Border Crossers.