CISV has quietely introduced a new look-and-feel.
In 2005 a proposal was made to brush up the "corporate identity" of
CISV,
to create a real brand, that would take a stronger position within the vast market of volunteer organisations. Also to create a more up-to-date version of the
CISV
logo and a tagline. Today we are most familiar with all this, but what seems normal today is the result of a tense fight between "reformers" and more conservative (better: less-market-oriented minds) in our organization.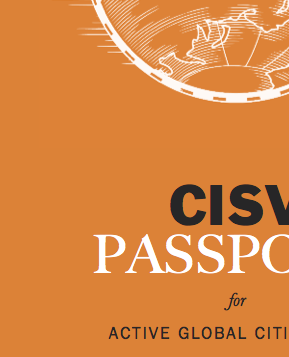 Besides the question of having a brand for
CISV
or not, it's also about, how much does this brand penetrate through all levels of our organization: How well and how strict this brand is applied to our documents, merchandizing and websites. Quite an effort was made to give detailed instructions on how "CISV looks". (
Check out the branding guidelines website for details.
)
The "CISV brand" does have a few caveats: The recommended fonts are not free, which makes them expensive to use, if every indiviudal has to pay them. Also, many
CISV
ers oppose a "uniformal" look of
CISV,
and would rather opt for a "soft brand". Finally, the colors suggested don't offer many nice combinations - something I struggled with when chosing the tones for the
AIM

2010 logo.
Just recently
Mosquito tactics
and also the
CISV

Passport
have been published in a new "look and feel": New fonts, new images, new pictures, etc etc. Personally, I love the "new style", because it seems professional and up-to-date. Now, while Mosquito tactics is a side-project, the
CISV
Passport is a core document. Creating it with a new design does give the impression, the branding guidelines of 2006 aren't a priority any longer. It even feels like, some people who didn't like the official "look and feel" just came up with something else.
I do think CISV's brand should be constantly reviewed and updated, and I'm not sure any committee is in charge of this ongoing process. Somebody should be, because it's part of being professional in what we do as an international NGO that wants to be taken seriously.