I was wondering which NAs have the strongest chapter(s). To answer this question I did an easy calculation: I divided the average number of programmes hosted in 1996-2007 by the average number of chapters an NA had during that time. So what I got, was the average number of programmes hosted per year by one chapter. The strongest chapter in the world would be the one hosting the most programmes per year.
Here is a display of the results in a graph: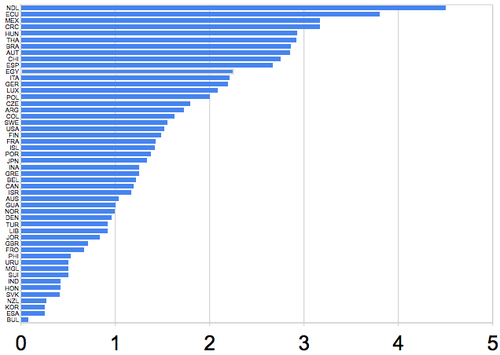 These statistics count all programmes as equals, so one Village or one Interchange count as one. My thoughts:
Quite surprising to find the Netherlands, Ecuador, Costa Rica, Mexico and Hungary in the first 5 places. None of these NAs are generally considered "strong" NAs.
All the top NAs before Brazil each have one chapter, only.
As you may know, the NAs are structured quite differently, and the number of chapters say nothing about their size, or their organizational purpose. For example CISV Denmark has (or had?) a chapter, for hosting Mosaics only. Also whereas the Netherlands and Austria probably have more or less similar country sizes (in population and area), the former NA has one and the latter 4 chapters.
In some multi-chapter NAs the hosting is shared by the various chapters in quite unevenly. So some chapters host a lot of programmes, while others host only very little.

The remaining question is what size an ideal chapter would be? When does it make sense to break up a chapter into two, or consolidate two into one? Is it a question of "infrastructure", or geographical outreach?