Cheap, short, national - Germany hosts "Kinder in Deutschland".
When I was 11, a whole bunch of kids who were either to young, to old, weren't chosen for a village spot or simply didn't have 4 weeks to spare went to a national youth meeting called Pilz Camp (Mushroom camp). For reasons unknown to me, Pilz Camps ceased from happening in the nineties, but luckily some clever people remembered the concept.
So in 2009 after an initiative from Germany's national board, CISV Hannover - a chapter that was only founded in 2008 - hosted Kinder in Deutschland (KiD) with almost 30 kids. The staff wrote an extensive report, and from reading it seems as if they got the content absolutely right.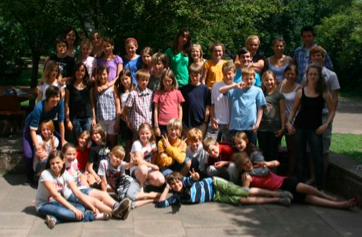 But it's more the practicals, that make me think, that KiD is how CISV is supposed to be: The camp participation fee was only 250 Euro. That's less than 1/3 of what families pay for a village spot. From the chapter perspective it was enough to cover a camp site with all meals included - no kitchen staff needed whatsoever. This and also the small size, made it possible for a chapter with no hosting experience to make this camp happen. The two-week timeframe made it easy for the host chapter and the staff to commit. Needless to say that a two-week national camp for such a small participation fee made CISV an option for families who would otherwise have been left out.
Is "cheap, short, national" a formula for the future?
If you look at CISV's
new areas of Peace Education
- Human Rights, Diversity, Conflict Resolution and Sustainable Development - I'm more than convinced that these can be dealt with in such a setting, just as good as in a village. Imagine how much more reach and impact we could have, if we would spend our energies on these kind of camps instead of our high-flying international programmes?
I know this post has "
Mosaic"
written all over it: KiD wasn't officially approved as a Mosaic project, because it wasn't announced officially in time, even if it fit all the criteria. I also know that some NAs are hosting national youth meetings in various formats (Canada and Brazil especially - I'd be curious to learn more about them.) But isn't it time to develop a more specific and standardized setup for national camps, so that all NAs can learn and share experiences? Shouldn't we being investing more time and effort if we emphasize inclusion (see old strategic plan) and outreach (see new strategic plan)? I do think so.
On a less enthusiastic note, the KiD for 2010 was cancelled two months ago. But that's a topic for another article.