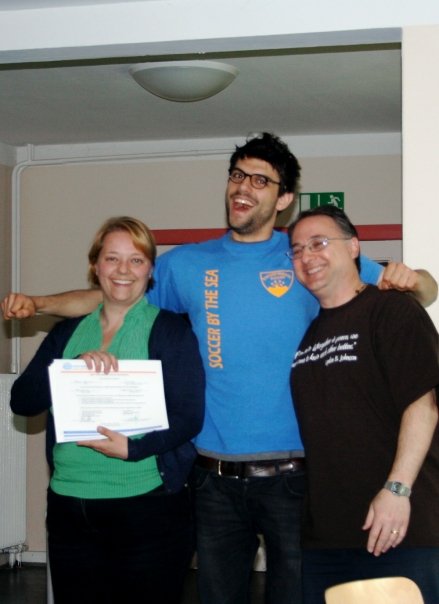 A while ago
I questioned the value of certifications issued by the Mosaic committee
. In the Regional Training Forum (RTF) that was held recently here in Hamburg, participants of the TTT (Train-the-trainer)-workshop also were given certifications.
The point I made about the Mosaic certificates, not being of any value for job applications, is still valid for these ones. However, the TTT-certificates come with another condition: They are only valid for 3 years.
I can see the rationale behind this - CISV's educational content and principles have always been dynamic, and we wouldn't want trainers in the NAs to prepare leaders with yesterday's concepts. Also, who remembers, what was done at a workshop three years ago?
If I understand it right, the Leadership Training Committee aims to have ALL trainers in all NAs cerified before too long. Now, things are getting ridiculous: We are a volunteer organisation, where "incentives" like certificates with an "expiration date" just don't work. A trip to a TTT-workshop is costly, and time-consuming. We're looking for volunteers to donate their time to do trainings - this just can't be the right path. If we tell trainers, they can't train anymore, because their certificate has expired, they'll say: So what? I'll be gone. The half-life of a volunteer in CISV, I would guess, is about 5 years. So let's say somebody want to contribute to CISV, has been a leader and staff and becomes a member of a leadership team. Then it will probably take another year before he or she takes part in a Workshop. Than after 3 more years, being at his peak of experience as a trainer, it's probably exactly the moment, when that person is looking for reasons to end his commitment and end up thinking "Soooooo sad, my certification has expired..."
I think CISV must present a positive incentive: The TTT-workshop must be top qualitiy, a delight to participate, an eye-opener. Something to recommend to people who have recently joined the gorup of trainers. Something NAs are willing to invest in, to get qualified trainers for their leaders. Also, it should be a social event of some sort. A bit like an AIM, a place to meet other CISVers from other countries, and have a good time while being trained. That's why a TTT embedded in the RTF makes a lot of sense. Finally it should be guaranteed that participation at a TTT-workshop comes at no financial costs for the participants.
As for the certificates, I think they can merely be used as a quality control tool: How many NAs train leaders with at least one "certified trainer"? Every NA should aim to have at least one of them, and this should be monitored.
I should add that I do think that expiry dates do make sense for Mosaic Trainers and Seminar Camp staff. Both are "rewarded" with a paid trip to another country, so I believe there should be motivation to get their skills updated every now and then. But also here, the system is flawed, if we run out of volunteers.