4 main content areas replace the decades old core educational document.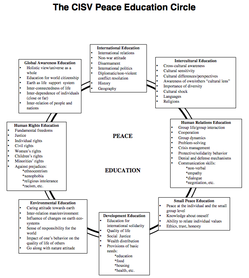 It was printed on the back of every Local Work Magazine and included in many a leader's information package. Some educationally minded staffs made big posters of it to remind the leaders of what was the content of their camp. It's name changed several times, but most people referred to it as the
Peace Education Circle
. I remember a bunch of smart juniors challenging the content during the IBM(AIM) in Denmark 1998 - however the Brazilian former Local Work chair of the times, who claimed to have invented it (alone?), fended of this assault easily. Today this seemingly holy part of CISV philosophy, the Peace Education Circle, has disappeared from the latest documents concerning Education, the
CISV Passport
and
Big Ed
.
The four main areas of Peace education now are as follows:
Diversity
Explores the identity of the individual and then asks us to consider ourselves within our own and the wider community.
Human Rights
Considers how human rights af fect ever y aspect of our lives and how violations can lie at the root of problems such as poverty, violence and lawlessness.
Conflict and Resolution
Helps us to understand how conflicts can arise deliberately or other wise and what can be done to help bring a peaceful resolution.
Sustainable Development
Looks for integrated ways to promote economic and social well-being, while protecting the environment through the responsible use of natural resources.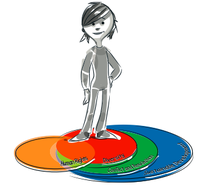 While 2009 CISV focused on Human Rights, 2010 is the
Year of Diversity
. A great chance to dig deeper into the 4 areas and to become more precise in what CISV can make of it.
Personally, this is really a great achievement. Not only can anybody easily remember the four areas, but it all makes a lot more sense. Who the hell ever understood what "Small Peace Education" was supposed to be. The PEC was very complicated, but also exclusive towards certain themes, i.e. Homophobia got dumped in the "etc." of prejudices.
Something I really like is that "Sustainable Development" has achieved a more prominent status. It's all to easy to delegate areas such as global warming and nature conservation to other organizations such as WWF and Greenpeace, but really, it is a core part of our own educational philosophy.
The only thing that I miss at the moment is some form of graphical representation of these areas, that look a bit more professional than the silly comic pictured above.
(For nostalgic folks, the PEC can still be found on the
Resources
CISV Saskatoon's website
...)