A wiki-based database of the ethical standards of companies. (
NGOYSK
)
brought my attention to
Knowmore.org
. Tarek has summarized it all beautifully, so please read
his article
.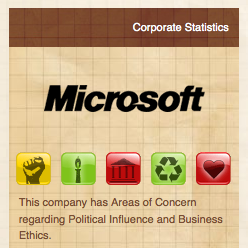 I especially like their graphic color-coded display of the 5 important ethical areas, as seen in here in the Microsoft example.
I spent a few minutes entering the names of companies of products that I could spot in our living room, and discovered that there is still some work to do:
IKEA
and
Kenwood
for example aren't even listed yet,
Philips
is, but has no ratings.
How about a Mosaic-minicamp spent on researching companies and entering them into the Knowmore database?