In 2000 I became the co-ordinator of the IPP taskforce. It was a rather inconvenient moment in time, because it was the year IPP (succesfully) applied to move from experimental status to official activity. Since 2008 IPP is a full blown programme and (theoretically) stands at equal importance as for example the village programme; it is widely accepted as a core part of CISV's educational philosophy.
However, during the IBM (now called AIM) in Austria, it wasn't all that sure. In fact the President of CISV International by then (who recently made the news with
rather nonconstructive criticism
), suggested that IPP should become part of the Local Work programme. Me and the rest of the IPP taskforce objected, and IPP went on to become its own activity.
In the following years Local Work started to struggle, being a facade of a programme with not much behind, and seriously needed to reinvent itself. The "ReThinking Local Work" project came up with a new concept called "MOSAIC". Besides changing to a more sexy name, it moved LW/Mosaic closer to IPP by encouraging work with partner organisations and giving the programme a more project-like character. When the board of trustees approved "Mosaic" in 2005, people came to me and warned me, that IPP may lose its unique profile, and we had to take care of that.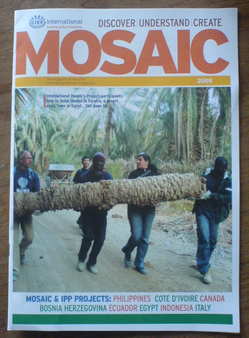 A few days ago the "Mosaic Magazine" came with the mail, and on the front page is a picture of the IPP in Egypt that took place in January this year. In the magazine, about 50% of the articles deal with IPPs and on the back cover is a map of the world, indicating where Mosaic AND IPP projects are taking place around the world. I remember suggesting an "IPP section" to the editor of the Local Work Magazine many years ago, but was rejected. Today, it seems, Mosaic and IPPs are closer than ever.
Now, would it make sense to stick them both together and have , let's say National and International Mosaic Projects (NMPs ans IMPs)? Should the former president of CISV international get his wish fulfilled after all?
I don't think so, and here's why: IPP is an international programme with a fixed structure and educational content. Planning an IPP requires hard work, building a relationship with a partner organisation and setting up a concept and practicals for a group of 25-35 people. In my experience, the biggest motivator for pulling through an IPP is the fact, that a whole bunch of people had bought plain tickets to come all the way to participate.
Mosaic on the other hand is still CISVs playground: The projects can be for any age group, any size and whatever duration fits the project best. A partner organisation is possible, but not mandatory. And one of Mosaic's biggest strengths is that it is mainly a local programme, even if that word doesn't appear in the programme's name anymore. It's low cost, low effort with a focus on education, not structure.
So, I welcome the idea of Mosaic and IPP moving along hand in hand, learning from each other. But they do remain two different, unique entities in the world of CISV.