The IMC now sends certifications to all Mosaic coordinators.
The IPP taskforce used to do this for all IPP participants and staff a few years ago - we gave up at some point because it was kind of a hassle. Also, we doubted, that anybody could use a certification issued from an organization to its own volunteers for future job applications. Personally, I received some sort of a certification when I finished my term as IPP chair (see below). But I never saw how I could have used it for anything, let alone to convince anybody to hire me. That's why I wonder whether this kind of a certificate is really of any
value in society
.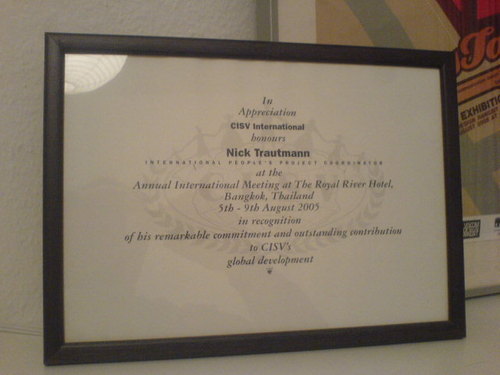 What I'd like to see in the future is an official valuation of volunteer work. I would like to have an account, to which "volunteer credits" are added by certified volunteer organizations. Of course you would need an extensive system of making sure somebody really donated time to a good cause. But anyway, I think it would be great to have my volunteer work properly measured and certified in my resume.
I thought I could remember an NGO providing exactly that, but my brief Internet search didn't reveal anything. Anybody up for starting such an organization?
(This reminds the that Sanna (SWE) once told me that one of the most popular talks at a Nordic Conference a few years ago was how to include CISV in your resume. How do you?)